Let's get together to play Pinochle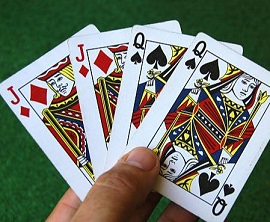 Join me if you play Pinochle or if you would like to learn this enjoyable card game,
I hope to get a group of players together to play one day every week or every couple of weeks.  We can take turns playing at each other's houses.  If the group gets large enough, we can also look into meeting at the clubhouse.
My name is Christine Cardon.  I am a Shelter Bay resident and the group organizer. You can reach me at (206) 818-9074 or by joining our WhatsApp group (see below).
To coordinate games we can use the Pinochle Club WhatsApp group.
To join this group, install WhatsApp on your phone then scan this QR code with your smartphone.
If you are not familiar with WhatsApp, click here. for additional information.
We look forward to playing with you!