CERT
(Community Emergency Response Team)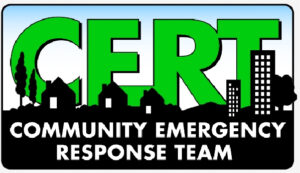 CERT is looking for a few good women and men to train to support their community in the event of an emergency.
CERT was developed and implemented by the City of Los Angeles Fire Department in 1985. They recognized that citizens would very likely be on their own during the early stages of a catastrophic disaster.
These classes will teach you basic training in disaster survival and rescue skills to improve your ability to survive and to safely help others until responders or assistance arrive to our community.
Topics covered are Disaster Preparedness, Fire Safety, Disaster Medical Operations, Light Search and Rescue Operations, CERT
Organization, and Disaster Psychology. These classes are FREE.
We currently need "Tent Team" volunteers for training to set up our Emergency Medical Center in the event of a disaster.
Contact Carolyn Caporgno, Chairperson, CERT Advisory Committee at carolyncaporgno@gmail.com or leave a voicemail at (209)609-1182.