Shelter Bay is interlaced with extensive amenities that include marine facilities, buildings, open spaces, parks, sport courts, trails, gardens and a storage lot.
BBQ 
Shelter Bay's BBQ Pavilion is located between the clubhouse and marina close to "B" dock. It is a covered shelter with electricity and water and includes large BBQ grills that are able to feed many hungry residents. Picnic tables with views of the marina surround the pavilion. The BBQ pavilion is used for events such as community picnics and concerts. For a fee, it can also be reserved by members for private functions. (Contact the office if you wish to reserve it for a private event).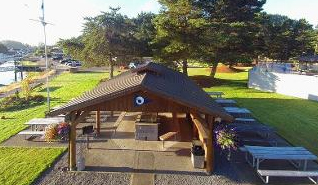 Community Clubhouse
The Community Clubhouse is a large meeting room area with a kitchen, ice maker, and AV equipment.  It can hold up to 150 people but the practical limit for seating is 100.  The facility is used for Community Meetings as well as official management meetings.  Committees and sponsored groups can use the facility at no cost.  It is available for member private rental use. To reserve the facility contact the Office 360 466 3805.  See the Room use calendar below.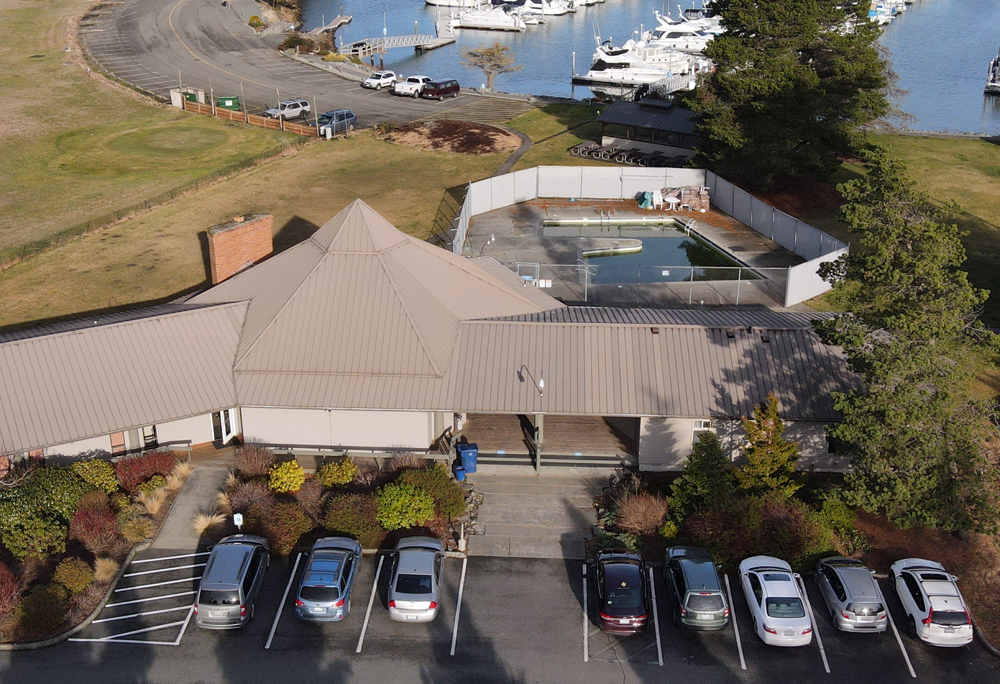 Shelter Bay Library
Hours: Monday-Friday 8:30 am-4:30 pm Saturday-Sunday 9:30 am-4:30 pm
Our FICTION library offers a wide selection of adult paperback books, as well as some hardback books and puzzles. From lighthearted reading, to westerns, to historical there is something for everyone to enjoy.  The library runs on the honor system and is staffed by volunteers.  Fiction books only due to current limited space.  For non- fiction and more visit the La Conner Regional Library

https://www.lclib.lib.wa.us/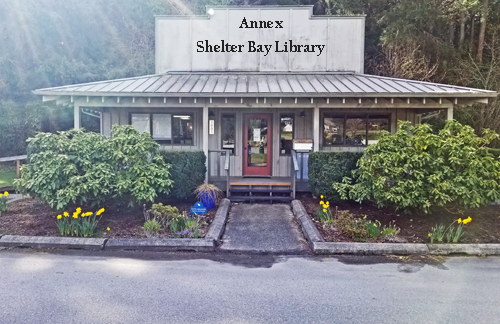 Storage Lot
A fully fenced yard that provides secure storage for trailers, boats, etc. A recent renovation has afforded us over 350 spaces, which are available for rent ($15-$75 per month, depending on size & electrical power needs). Contact the Shelter Bay Office for details.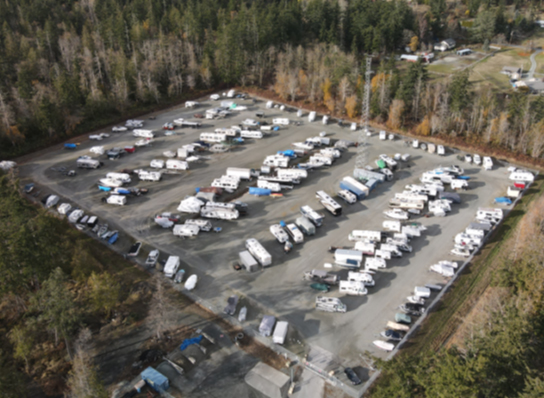 Golf Course
At the heart of Shelter Bay lies  a challenging par 3 course with varying terrain and maximum 110 yard holes. The open layout provides an ideal environment for learning, practicing and enjoying the necessary short game in golf, for all ages, as well as a beautiful view.  A newly built gazebo now overlooks the golf course and the marina behind it creating an open, scenic view.  See the Golf Club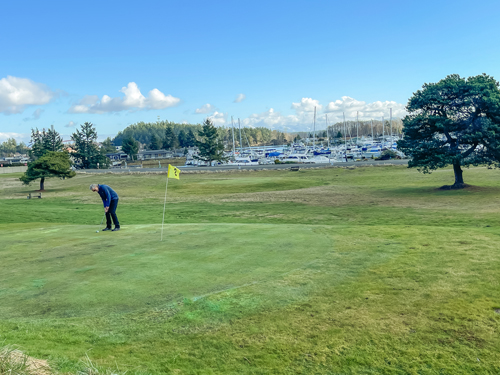 Wetlands
This three-quarter acre wetland area, southwest of the Clubhouse tennis courts, has over 700 newly planted trees and plants that were planted in 2020.  Initially they were maintained by the Shelter Bay Garden Club until they were fully established.  Some of the plants are identified with signage and there is a wood-chip trail through this area for your enjoyment.  Share this peaceful area with the deer and other wildlife that frequent it.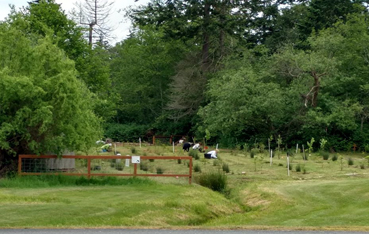 Tennis Courts
There are two tennis courts located near the Clubhouse with plenty of parking.  The courts are also marked for pickleball.  The surface is 100% acrylic and factory-mixed with a specialized blend of aggregate. This creates the ideal surface texture for non-slip footing.  Court shoes are required on these courts due to the surfacing.  The tennis playing schedule is posted outside by the gate to the courts and on the Tennis Club Page.  If you want to connect with other tennis players in the community, check out Shelter Bay's Tennis  Club.
To access the tennis courts, contact the Office 360 466 3805.
Pickleball Courts at Coquille Park
Four new Pickleball courts were inaugurated in 2023 on Coquille Way.  A locker is provided with extra balls and paddles for the residents.  Two groups of player use the courts almost daily at set times and open play is available for all residents.  For schedules and more details, see Shelter Bay's Pickleball Club Page.
To access the pickleball courts, contact the Office at: 360 466 3805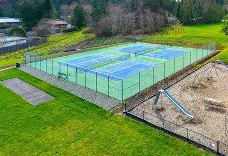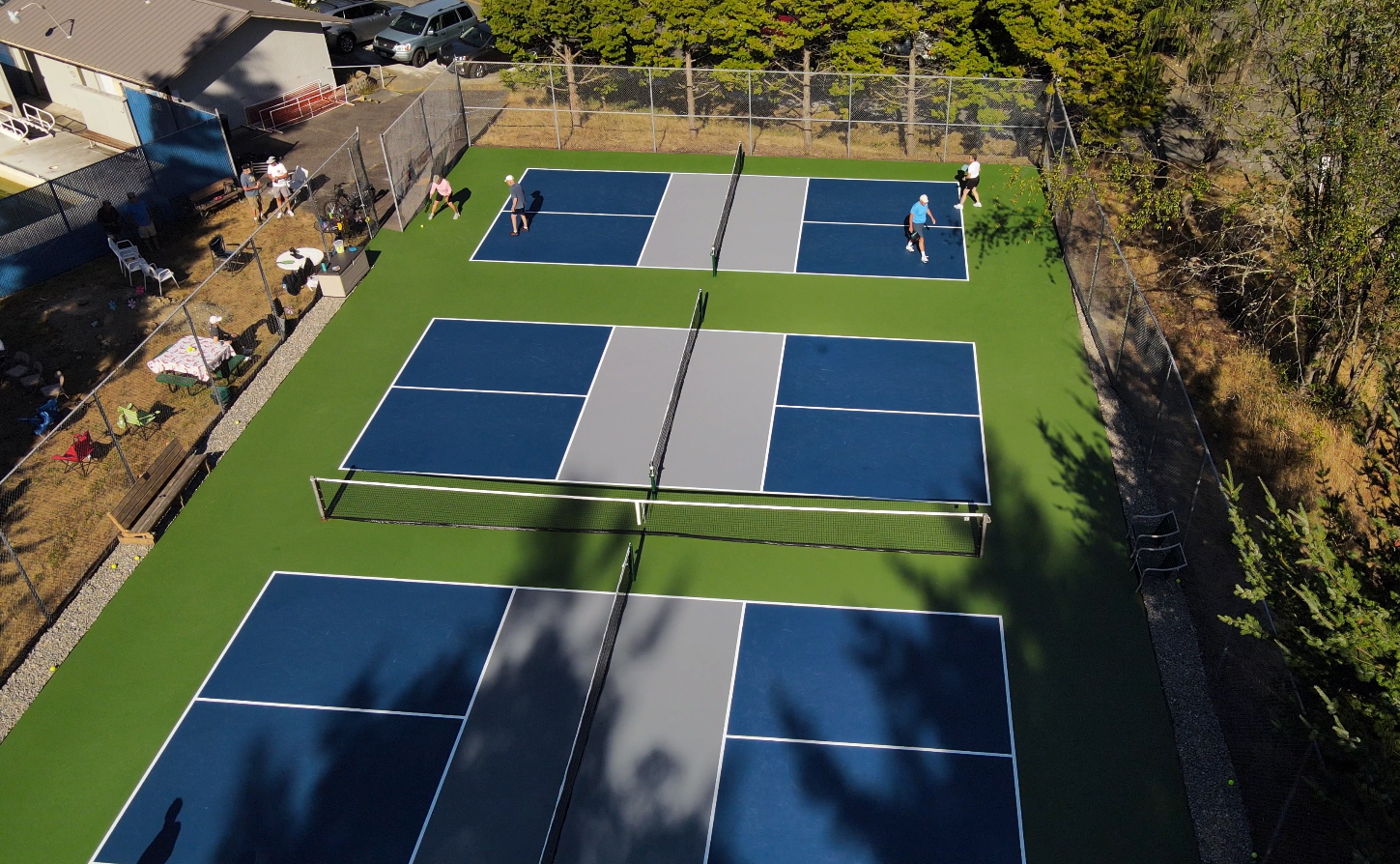 Rainbow Park
Rainbow Park at the end of Chinook Place has a picnic shelter with picnic tables, BBQ, and running water. The park is located on the Swinomish Channel and has an incredible view of the Rainbow Bridge.  This area is available for the use of all Shelter Bay residents at no charge. The picnic shelter may be reserved for private functions on a first come, first served basis. Contact the Shelter Bay Office for details.  Link to the reservation form to reserve Rainbow Park.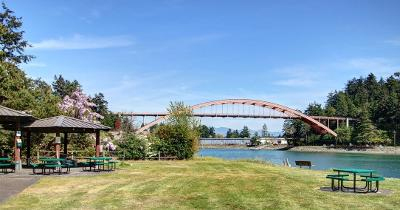 BasketBall Court (Half Size)
Next to the Upper Tennis Court (near 600 Shelter Bay Dr) is a clay surface half-basketball court.  Easy parking and a great way to work on your basketball skills or have a pick-up game with friends.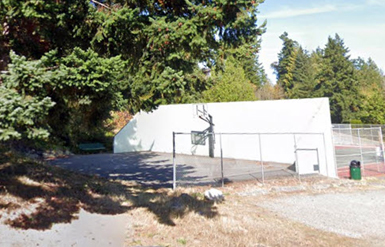 Martha's Beach Park
A piece of heaven!  This lovely beach area is accessible to all residents for a day at the beach.  It is a remote area with a fire pit, BBQ's and picnic tables.  Great place to bring the kids and your dogs for a quiet time with nature.  Closure hours vary throughout the year so check the latest newsletter for times and fire restrictions.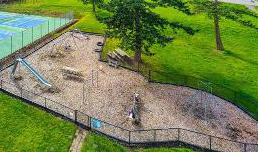 Boat Ramp
Adjacent to the marina on the west side is the location of the boat ramp.  Boat trailers can be parked near the ramp for a limited period of time.  The ramp requires the purchase of a key from the office to unlock the chain across it.  Close to the ramp is a pump station if needed.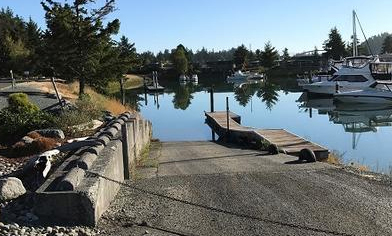 Pool
The pool is located next to the Shelter Bay Club House.  A Work Group is currently reviewing the possibility of reopening of the lower pool.