We play Pickleball for fun!  We don't take ourselves too seriously, but games are more enjoyable when played with others that have similar skill levels, so we separate into Beginner and Intermediate player groups.
If you've never played before, consider joining our beginner's group (also called the "social pickleball group").  If you are a Tennis or Racquet Ball player &/or have prior Pickleball experience, use the guide on the right to determine your level (click to enlarge).  If you are a 3.0 or above, join our Intermediate group.
To join one of our Pickleball groups, just install WhatsApp on your phone then scan the corresponding QR code below with your smart phone's camera.
Once you've joined, you will be able to see who is playing and when so you can join in.
If you are not familiar with WhatsApp, click here for more information.
Beginner's Pickleball Group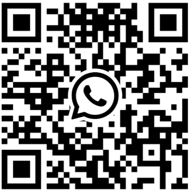 Intermediate Pickleball Group
Scheduled games are played on our four new Pickleball courts at Coquille Park located at the intersection between Shelter Bay Drive Coquille Way.  All residents are welcome to play on any day, but it is best to indicate on WhatsApp if you will be playing for better game coordination.  Regular games are played according to the schedule below.  At other times, games are played on a first-come, first-served basis.
AS A COURTESY TO RESIDENTS NEXT TO COQUILLE PARK, WE REQUEST THAT YOU PLAY ONLY BETWEEN 9:00AM AND 8:00PM
Social Pickleball Group
MON:  9:00AM – 11:00AM
WED: 9:00 AM – 11:00 PM
FRI:     9:00AM – 11:00AM
SUN:   9:00AM – 11:00AM
Intermediate Pickleball Group
TUE: 9:00 AM – 11:00 PM
THU:  9:00AM – 11:00AM
SAT:  9:00AM – 11:00AM
SUN:  9:00AM – 11:00AM
COURT RULES
Court hours are from 9:00AM to 8:00PM
Courts are for use by Shelter Bay residents and their accompanied guests ONLY.
Courts are for Pickleball use ONLY. (No bikes, skateboards, etc.)
Only wear non-marking court shoes. (No shoes with black soles please).
The lock combination can be obtained by calling Shelter Bay's office at: 360-466-3805.
Please brush away leaves & pine needles from the courts before each use.
The last person must lock the gate when leaving.
We look forward to playing with you!