Shelter Bay Mah Jongg Club

Are you a Mah Jongg player or would you like to learn how to play? 
You are invited to join our Shelter Bay Man Jongg group. We use the annual National Mah Jongg League's card and we provide a card if needed for new members.

If you are not familiar with the game and want to learn, teaching is provided. Our playing schedule varies and we play at homes in Shelter Bay. We also play at the La Conner Senior Center but it is a faster game for those of you who are new.
We coordinate game dates, times and locations with WhatsApp messages.  Join in to find out when and where the next games will be played.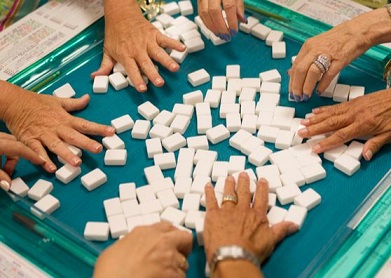 To join Shelter Bay's Mah Jongg Club, install WhatsApp on your phone, then scan this QR code with your smart phone's camera.
(If you are not familiar with WhatsApp, click here) 
 We look forward to playing with you!!