Join us! … and let loose that Dali or Picasso in you.
We meet every Tuesday at Maple Hall from Noon to 2:00pm.  Bring your own supplies or just come over to meet us and see what we do.
We have several watercolor artists, some of us work with pastels, others with acrylics. All medium is welcomed (drawing, beading, etc.…).
This is not a class, but we do collaborate with each other. It's our artistic time of week!
Join our WhatsApp group to plan get-togethers and to ask and answer art related questions when we are not at Maple Hall.
Let's make great art together!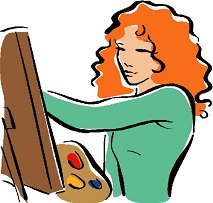 To join Shelter Bay's Art Circle, install WhatsApp on your phone then scan this QR code with your smart phone's camera.
(If you are not familiar with WhatsApp, click here)