Shelter Bay Communiversity
Welcome to Shelter Bay Communiversity!
Never stop learning…
…because life never stops teaching.
Shelter Bay Communiversity provides life-long learning opportunities available to residents of the Shelter Bay and Swinomish Tribal Communities.
Communiversity is a volunteer-managed program for the enjoyment of all Shelter Bay residents and Swinomish Tribal members. It provides a broadly-based curriculum of subjects presented in a fun and no-stress environment. Offerings are currently being made over Zoom until we can return to the Clubhouse.
Contact person if you have questions:
Jim Barrett 206-930-3607
email jim@barrettmarine.com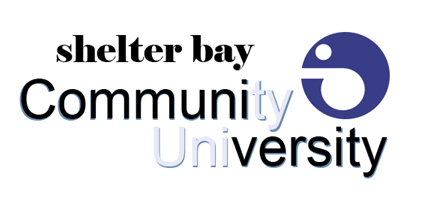 Instructor's Course Proposal Form
Click the link to submit information about the course you would like to teach. A member of the Communiversity staff will get right back to you.
Upcoming Class
Tsunamis in the Salish Sea: evidence from the past, future hazards, and tsunami safety
Tuesday October 17, 2023 – 6:30-8:30 p.m.
In this class, we will explore geologic evidence of past tsunamis in the Salish Sea. We will learn about the longest record of tsunami deposits in Washington at Discovery Bay, and what this record tells us about Salish Sea tsunami sources. We will look at the latest tsunami hazard maps published by the Washington Geological Survey and newly published tsunami guidance for the maritime community published by Washington Emergency Management Division. Lastly, we will discuss ways to protect yourself in the event of a tsunami.



Instructor:

Dr. Carrie Garrison-Laney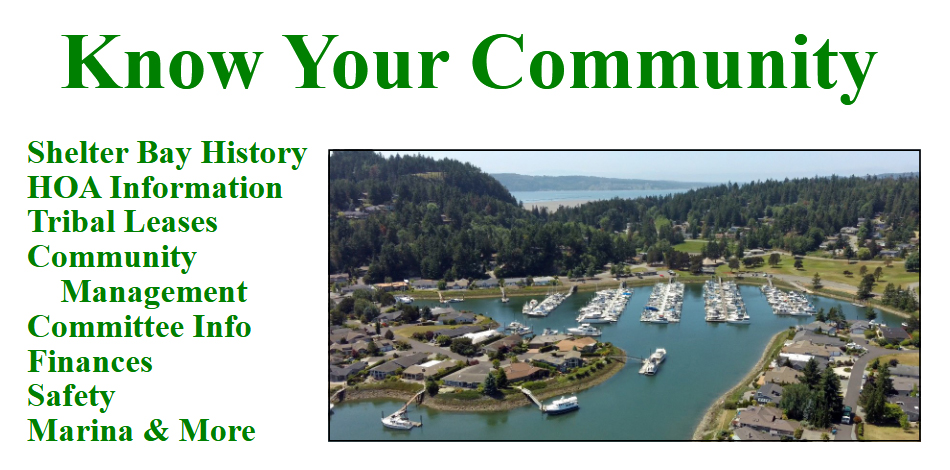 The Know Your Community program is offered to all residents by experts from within our community.
The program consists of monthly presentations that will cover every facet of our community. 
Participants will have the opportunity to ask questions and get immediate responses from the presenters and other attendees. 
Register for the Series of Classes
Know Your Community Recordings
Class #1 History
The first session covered the history of Shelter Bay, bringing everyone up to date on how we got to where we are today and cover how our Home Owners Association (HOA) is structured and functions compared to other HOA communities..
Class # 4 Management
The fourth class covered the role of the Board of Directors, the committees and the Office including all employed staff
Class #2 Marina
Class two covered the Marina.  It was presented by Pat McGarry and Vanessa Finch.
Class #5 Safety and Security
Class five covered Shelter Bay Safety and Security.  It was coordinated by Carolyn Caporgno.
Class #3 Leases and Taxes
Class three covered the Master and Sub-lease, land ownership, the possible new lease, the hierarchy of authority and Taxes from the Tribe.  It was presented by Rod Proctor.
Class #6 Soc/Rec, Communiversity, Communications and Website Demo.
Class six covered three Committees, what they do and how to participate plus the demonstration of the newly launced Community Website.
 Other Recordings From Communiversity